Glass bottles on the doorstep – getting a milkman
Published on 5 January 2009 in Shopping, milk, milkandmore, milkman, shopping
It's remarkable to think how much the humble household shop has changed in just twenty years. Nowadays it's all supermarkets, supermarkets, supermarkets, but as a kid in the early 1980s, we would walk round Hyde Indoor Market – veg from one stall, eggs from another, meat from a third. Despite the presence of a huge Fine Fare hypermarket in the town, a monthly groceries shop was usually done in Asda's Longsight branch seven miles away. And milk came from the milkman, delivered daily of course.
Ah yes, the milkman. Glass bottles, foil tops and electric milk floats silently trawling the neighbourhood.
Milk bottle photo by Richard Cocks. Used under licence.
My parents still use their milkman, as do around 5m other people in the UK. However there's a concern about milkman decline. And like many, I never got a milkman when I left the parental abode.
One of the reasons I never considered it was because you just don't know how to get in touch with your local milkman. In our current street, I've never seen anyone delivering milk, nor anyone with milk bottles outside.
Which, it has to be said, is where the internet offers a helping hand. A couple of years ago, when a new website launched called Find Me A Milkman. By coincidence, around the same time I kept seeing a milk float as I walked to the tube station in the morning. Although the concern that the delivery would not be early enough, put me off trying it out.
Then, a few weeks ago, a leaflet came through the door about milk&more, a new website from Dairy Crest, Britain's biggest doorstep milk delivery supplier.
It was enough to make me think about it all again, and I ummed and err-d about it for a while.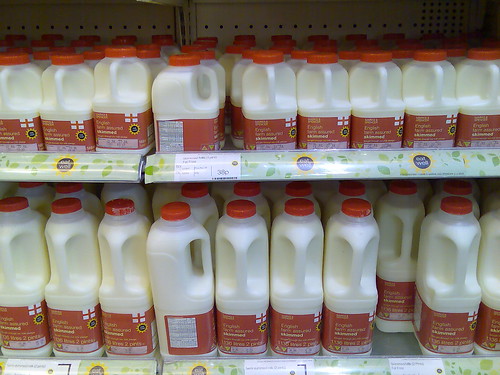 Photo by Mark Hillary. Used under licence.
On the plus side, it is a lot more environmentally friendly – glass bottles get washed and reused at least 20 times before they're recycled, unlike the average plastic milk bottle. The weight of lugging the weekly four pints back from Sainsbury's on foot, is also a nuisance.
And frankly, I'd been getting fed up of giving my money to the supermarkets who are just getting too big, and dominating of our lives at all levels. We'd already moved to getting our veg from an organic box scheme – it was time to take the milk away too.
The milk would cost more that it would in Sainsburys, but actually there was the potential to actually save money. Milk was actually the only regular item we needed to buy, week in, week out – ensuring that there was always a trip to the supermarket. And like most of us, when I got to the supermarket, I always end up buying more than I intended to, and usually things I don't need. Without the need to buy milk, I was hopeful that I could cut the supermarket trips down to fortnightly, rather than weekly, and hopefully save some cash too.
It was enough to convince me. The website was loaded up, regular orders created. And the next day, there on our doorstep, was a glass bottle of milk. It was lovingly carried upstairs, wiped, and stashed in the fridge.
And so it began. So far the jury is out on whether money has been saved or not, however on Sunday 7 December we celebrated two weeks of milk delivery.
We celebrated in style. By not going to Sainsburys.
Tomorrow I take a look at milk&more – Dairy Crest's doorstep delivery website